It used to be that Silicon Valley was the only place for an entrepreneur to start a business easily, but now it can be done anywhere in the world—hire virtually, collaborate and sell virtually, he said. In the meantime, startup costs are also decreasing as is the ability to develop cloud-based products
The hottest sectors within the B2B software industry look like:
Security: For everyone on a cellphone or laptop;
Supply chain visibility: How people buy has shifted to online;
Health care: Especially telemedicine, with attention on COVID-19, but also helping the population get ongoing care and bridging that gap; and
Collaboration and virtual workforce: Connecting everyone who is working remotely
 In 2020, 61 percent of super start-ups across the world offered B2B solutions, whereas the other 39 percent offered B2C solutions. Super start-ups are privately held companies which haven't yet reached unicorn status (market valuation of one billion U.S. dollars or more).
The global e-commerce market size was valued at USD 9.09 trillion in 2019 and is expected to grow at a compound annual growth rate (CAGR) of 14.7% from 2020 to 2027.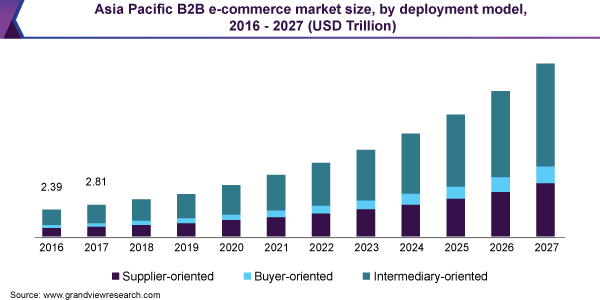 A survey of business buyers conducted by Digital Commerce 360 found that 20% of purchasing managers spent more on marketplaces, and 22% spent significantly more, during the pandemic.
Even before the pandemic, B2B marketplaces were expected to generate $3.6 trillion in sales by 2024, up from an estimated $680 billion in 2018, according to payments research firm iBe TSD. They were already growing more quickly than most B2C marketplaces that predated them, and when COVID shutdowns hit, many companies scrambled to shift all purchasing online.
Mastercard says there is about $120 trillion annually in B2B payments worldwide, and paper checks still dominate about half of the U.S.'s $25 trillion payment volume. Meanwhile, retail e-commerce sales account for $4.2 trillion out of $26 trillion in total retail, or about 16.1%, according to eMarketer. Less than 8% of global commerce is thought to occur online.
Nearly $150 trillion in worldwide B2B and B2C transactions take place every year, but only a tiny portion are digital. A lot of technology companies want their piece of that massive pie. Until recently, though, only payment facilitators (aka, "payfacs"), gateways, banks and credit card companies had access to it.
You'd think B2B software companies would find a way to generate revenue on some of that $146 trillion in transactions, but most did not. Payment processing is its own, messy, complicated niche. Payfacs go through a grueling underwriting process to provision a merchant account, which includes know-your-customer (KYC) and anti-money laundering (AML) checks. If a merchant defaults, the payfac is next in line to make good on the transactions.
When you run a venture-backed B2B platform, you have enough to worry about already.
So, B2B platforms stayed clear. They formed integrations with a basket of payfacs (Stripe, PayPal, Square, my company BlueSnap, etc.) and then let their clients choose which one to use. That's a lot of integrations to maintain.
The B2B Marketplace Landscape
In total, there are more than 50 B2B marketplaces across the many verticals of B2B distribution in the US. However, the B2B marketplace landscape differs significantly in each industry.
In industries like Food and Health Supplies, you still have more than a dozen startups, each with their own unique B2B marketplace approach, competing against each other.
B2B Marketplace Funding by Industry: Here's how each industry stacks up when it comes to funding for B2B marketplaces.
Below we examine the total B2B marketplace funding by industry.